Change their phone,
Change their lives
CaptionCall is a federally funded service for people whose hearing loss requires captioning for them to effectively use the phone.
No internet?
No problem.
Now your patients can benefit from the CaptionCall phone and captioning service even if they do not have internet. And there's still no cost.
CaptionCall Phone Features
Confident communication
Captioned telephone service helps your eligible patients make sure they understand what they're hearing accurately with real-time captioning so they feel more confident and independent and never miss the point of their conversation.
Keeps patients connected
Those who need captioning to understand unfamiliar voices on the phone will appreciate the automated speech recognition, captioning agent assisted calls, and background noise-minimizing features that make it easy to stay connected wherever they are.
Use on the go
For your more active patients, CaptionCall is mobile and can go anywhere they go. It's just as easy and intuitive and works much the same way as the at-home CaptionCall phone. People will love being able to communicate effectively while away from home.
No longer use a landline?
The CaptionCall Mobile App is available at no cost for those with hearing loss that need captions to use the phone effectively. Our mobile app effectively supports Apple IOS 11 devices or later as well as Android 7 devices or later.
Refer patients with ease
We make it easy to request CaptionCall for your eligible hearing-impaired patients in three different ways. You can order the captioning phone and service using your OMS, submit our form online, or send a PDF. There is no cost to you or your patients, and CaptionCall will contact your patient directly to arrange for delivery, installation, and in-home training as part of our renowned Red Carpet Service.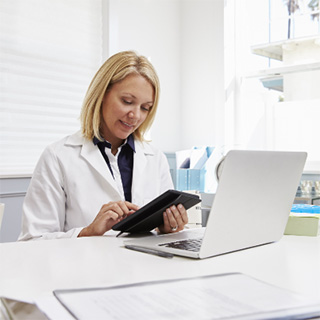 Software
Online form
Email, fax, or mail
Professional education
CaptionCall offers learning opportunities and scholarships for hearing care professionals, staff, and students. Learn more about available learning resources.
Get the CaptionCall Provider Newsletter
Receive our monthly newsletter which includes links to informative white papers, best practices for your profession, and thoughtful strategies for supporting patients with hearing loss.