What CaptionCall Users Say
The difference CaptionCall makes is real — and real people will tell you so. If you're a CaptionCall user, we want to hear your story!
Tell us your experience by filling out the form at the bottom of this page.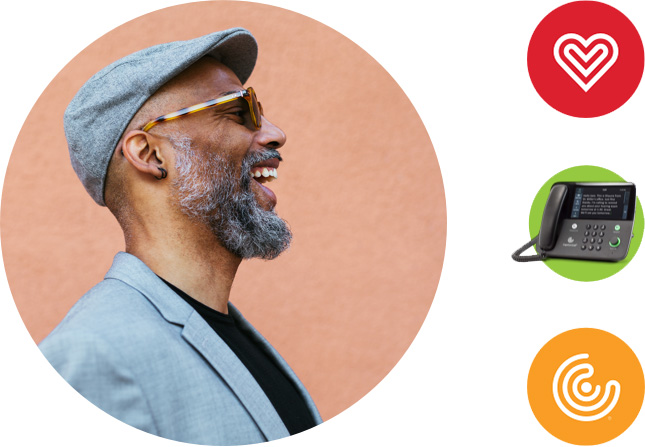 "I love it. I'm 93 with only 6% hearing in one ear and 30% in the other. I have had a very hard time talking to anyone, especially when they talk too fast. This is a very helpful communication tool and I'm so thankful to have the use of it. I quite likely lost most of my hearing as a result of mortar and artillery shells landing near me in WWII."
---
Joe
from Des Moines, WA
"For me the biggest advantage is that CaptionCall works with both my hearing aid types. What I've found here is a miracle for me. I can live more of a normal life. Without the hearing aids I hear nothing. The text on the CaptionCall phone is still important because understanding some people is difficult."
---
John
from Reading, PA
"I have had my CaptionCall phone for over 2 years — I wish I had it 14 years ago! I hear some words, but others I do not and this phone allows me to read what my caller is saying. The CaptionCall phone makes my life much easier. I recommend it to my friends who have problems like I do. Please keep up the good job you are doing."
---
Rose-Marie
from Henderson, NV
"This phone is a great piece of equipment, both in looks and performance. My hearing is so bad I almost gave up answering calls in the past, but with my new CaptionCall phone, the sound quality along with captioning is fantastic!"
---
Dehalas
from Shingletown, CA
"I am a bilateral cochlear implant user. Your CaptionCall phone is the best thing I have ever found to make and receive phone calls. I just recently found out that you had a CaptionCall mobile app for the iPad. IT'S WONDERFUL!!! Now I can receive phone calls when out and traveling."
---
Bob
from Englewood, FL
"It is a relief to be able to do your own personal and business calls rather than having someone else do it for you."
---
Diana
from Attleboro, MA
"I have lost all of my high-frequency hearing, which makes it totally impossible to understand what people are saying on a regular telephone or cell phone. The CaptionCall phone is my lifeline to telephonic communication. I've had my CaptionCall phone for over 10 years and I would be completely lost without it!"
---
Don
from Melbourne, FL
"I am so happy to be able to communicate with my family. They are so used to not calling me, I had to remind them and show them the unit. AMAZING! Totally grateful for opening up conversations. Tears of JOY… thank you so much."
---
Mary
from Decatur, IL
"I was not able to use the telephone for several years. Calls went unanswered because of my hearing loss. New, expensive hearing aids did not help. I had given up using the phone completely. When CaptionCall informed me that I could get a CaptionCall phone I was somewhat skeptical. This phone made all the difference. I now answer the telephone without a problem and again feel connected to the world."
---
Hank
from Romulus, MI
Some testimonials have been edited for spelling, grammar, and length.
---
Share your story
Tell us about your experience receiving and using the CaptionCall phone. Yours might be the beginning to someone else's story. Use this form, or log in to your account.