Captioning Agent
Our captioning agents work in locations throughout the United States to help people with hearing loss communicate over the phone. A captioning agent transcribes a telephone conversation so the person with hearing loss can read what their caller is saying. It's a fun, fast-paced, and rewarding position. We provide paid training. And you can enjoy a flexible schedule, excellent pay, and competitive benefits. English-speaking and Spanish-speaking positions available.
Job Description
Provide excellent customer service by dictating/captioning a variety of conversational topics verbatim.
Maintain a high level of dictation speed and accuracy.
Maintain strict consumer confidentiality.
Requirements
Provide excellent customer service by dictating/captioning a variety of conversational topics verbatim.
Maintain a high level of dictation speed and accuracy.
FCC requirements on answer times, prohibit hang-up, and confidentiality.
Able to communicate effectively through reading, writing, speaking, and listening.
Able to hear and speak clearly.
Ability to work and focus in an environment with noise and other distractions.
18 years or older.
High school diploma or equivalent, or call center experience.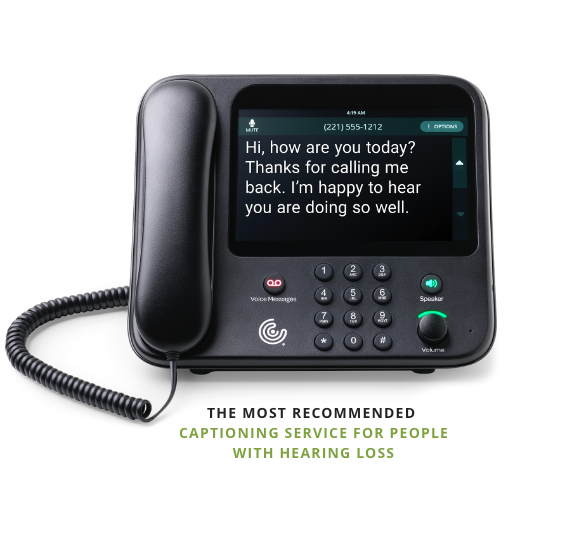 What is CaptionCall?
Imagine life without the telephone. Millions of people in the United States have trouble hearing on the phone due to hearing loss. This is a real, everyday barrier. Thanks to CaptionCall, people who are hard-of hearing are able to read what a caller is saying when they are on the phone.
We need Captioning Agents to help provide this important service. We are looking for bright, efficient, and energetic individuals who learn fast and have basic computer and typing skills. Speed, accuracy, and confidentiality are vital in this position to meet our goal to provide CaptionCall users the best experience possible on the phone. As part of the CaptionCall team, you are the crucial component in the process that improves the quality of life for people who have trouble hearing on the phone.
Captioning agent experience
"I felt honored to be a CA because in my own small way I've helped to build a school, rescue someone in relapse, help families come together after a loss, and elected officials prepare for a legislative session.
Being a CA really helps you put your fingers on the pulse of the country. You get to be more in touch with how everyday people are feeling about everyday events. It's wonderful to be a CA because you know that there are people out there that you know you're genuinely helping. I can't think of a better thing to work for than that.
Being a CA helped me develop self-regulation, independence, and confidence in my ability to learn new skills. Working at CaptionCall helped me to discover my own values: from CA to Mentor to Center Lead Mentor, I have never stopped working to help people."
---
Jacob L., Center Lead Mentor
"I really enjoyed my job here at CaptionCall from the beginning, my TLS and manager were very welcoming and kind. I loved coming to work every day because of the people I worked with, and I loved knowing I was helping someone communicate with their loved ones. I have since been promoted to TL, and I love my job even more. I enjoy getting to help the CAs on my team find the joy in their job that my leaders showed me, and I enjoy getting to see my teammates grow. I have learned a lot about professionalism and leadership as a TL that I know will help me throughout my life."
---
Hannah D., Team Lead
What is a captioning agent?
A Captioning Agent transcribes a telephone conversation so the customer with hearing loss can read what their caller is saying.
What are the requirements?
Must be 18 years of age.
Must be in office for training and interview process.
Must pass typing test for accuracy and speed (30 wpm).
Is there a captioning center hiring near me?
See above for a complete list of hiring centers.
What is the wage?
Pay is based on location.
Can I work from home?
Many Captioning Agents are working from home due to the Coronavirus (COVID-19) pandemic. You are required to interview and train in the office. CaptionCall is committed to adhering with state and local social distancing guidelines. After 90 days, you have the potential to qualify for at-home work, but it is not guaranteed.
What is the dress code?
Casual attire is permitted.
Is it Part-time or full-time
Schedules vary by location. Availability is listed in the application.
What are the expectations on captioning the caller?
You will be expected to repeat everything you hear word for word, regardless of content.
Are there medical benefits?
Medical benefits are available to full-time employees and alternative self-pay benefit options are offered to part-time employees.
Is there possibility for upward movement within the company?
Yes! Former Captioning Agents currently fill many positions throughout the company.